At Green Side Up, it's our goal to make your life easier with hassle-free professional landscaping. We don't expect you to interrupt your busy lifestyle to oversee our landscapers and make sure the job is completed to your satisfaction. That's our job. With highly trained teams, strict attention to quality control, and a streamlined process, we make sure every job we complete exceeds the expectations of our customers. Here's what you can expect when you contact Green Side Up for landscaping services in Richmond, Virginia and surrounding areas.
Why Choose Green Side Up for Your Richmond Landscaping Needs?
Every member of the Green Side Up team appreciates our customers choosing us to meet their professional landscaping needs. Entrusting us to take care of your property is a big deal and we take the responsibility seriously. We repay your trust by providing these benefits with our services.
Guarantees & Warranties: We stand behind our exemplary services with these guarantees.

Our 24-hour callback promise means we get back to you within 24 hours of when you call for any reason.

We periodically visit your property and include detailed reports.

We provide a 1-year warranty on plants with installation services.

All of our hardscaping features are backed with a 3-year warranty.

Simplified Lawn Care: Save time and review documents anytime.

Online scheduling is designed to provide you with the opportunity to set up services at your convenience.

Electronic documents are provided, so you come to meetings informed and prepared.

Online payments are streamlined to fit into your busy lifestyle.

Ongoing Education & Support: You get all the support needed to have a thriving landscape for years to come.

You will receive automated educational materials about various aspects of landscape care, such as watering instructions and plant health care tips.

For any issues or questions, we will return your call within 1 business day.

We will work to start resolving any issues you have within 1 business day.

You will have a dedicated point of contact in charge of the day-to-day communication and management.
A Professional Landscaping Team is Worth Every Penny
Our customers trust us to take professional care of their landscapes. See why so many new customers decide to stay with Green Side Up year after year.
We Service Your Home Landscape in Richmond, Williamsburg, and Surrounding Areas
Central Virginia has so much natural beauty, and we love working outdoors in this area. Green Side Up is a local company, which means we all live and work in this area, too. We understand the unique challenges of our climate and soil conditions. Our current and past landscaping projects include some very fine homes of all different sizes in Richmond, Williamsburg, Midlothian, Glen Allen, Henrico, and James City County. Check out our Main Service Area page for more details on specific neighborhoods we work in.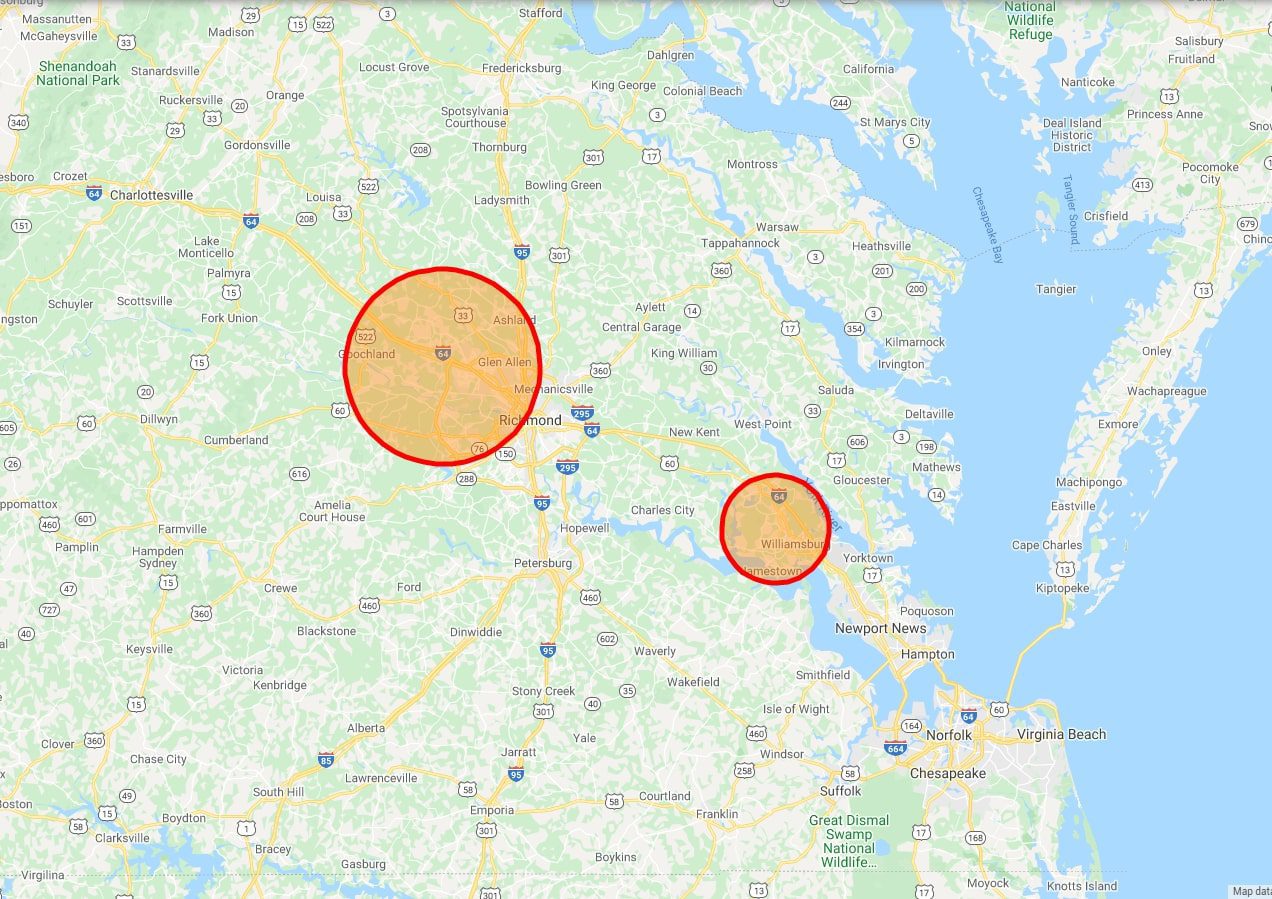 Our Process Makes Green Side Up a Great Place to Work
We are a professional landscaping company, and we treat our workers like professionals. You can't join a better team! If you enjoy process-driven work and love to be outdoors, please check out our current job openings on our Careers page.
Apply Now
It All Begins with an On-Site Meeting
Explore your landscaping options by scheduling your on-site meeting with one of our professional landscapers. We know you're going to love how we focus on your specific needs. Communication is always a high priority with us, so please contact us with any questions or concerns. Put your landscape in the hands of the most professional landscaping company in the Richmond and Williamsburg area.