Life is busy enough already without keeping track of your landscaper and making sure they are getting the job done right. Over the years, we have developed a process that makes customer communication and job-tracking easier for everyone involved. It means customers get access to Green Side Up technology at any time, and it means our crews are held more accountable to their schedules.
We want to give you hassle-free landscaping. To that end, we make sure our highly-trained teams know where they are supposed to be and what they are supposed to do. Being a full-service landscaping company helps us achieve these goals. When one aspect of the project is finished, all the electronic notes and details of the project are passed on to the next crew. Keeping everything available on our online system ensures streamlined service with no gaps for any of our customers.
Our process also involves a lot of quality control. Our goal is to create landscapes that inspire pride in their owners' hearts. We have great managers in our company who act as points of contact for our customers. You'll feel comfortable communicating with them and letting them know any questions or concerns. Our managers also perform lawn service visits every four to six weeks and then send you a detailed report on the condition of your property, including suggestions for ways to improve your property and your landscapes health.
A Professional Landscaping Team is Worth Every Penny
I am so happy with our backyard patio that Green Side Up designed and installed for us. They are easy to work with and gave me exactly what I wanted. Reasonable cost ( I got 4 other quotes), timing was spot on.. great experience from beginning to end. I highly recommend Green Side Up!
I started with GSU just to do some mulch work. Once I stated the full lawn care service I couldn't be happier. Yard was well kept all year. Coming home in the fall when the days start getting shorter and see that your yard is already taken care of is a great site. Freed up all my weekend too.
I just wanted to let you know how pleased I am following the team's first visit. My yard looks great! They did a really thorough job. I'm looking forward to having a well-maintained property this year!
Great, professional organization.  For years I've had trouble growing grass on my bank due to heavy shade.  They recommended and installed a ground cover that seems to be thriving. Preparation of the soil and quality of the installed turf were great.
GSU is remarkable. They stay close to their clients to ensure service and results are just what the customer has envisioned. They are working with us on weekly maintenance and an updated design and installation for our yard in Brandermill. The weekly maintenance is excellent---I see a vast improvement over the service provided by other companies. Responsive, proactive and expert.
Green Side Up did a fantastic job on our patio. They listened carefully to all of our requests and were a pleasure to work with. The crew that worked at our home for approximately five weeks was very easy to work with and their attention to detail was incredible. Great guys! We now have a beautiful patio that far exceeded our expectations. I would highly recommend Green Side Up not only for their professionalism but also for their incredible craftmanship.
Great company to deal with on a variety of projects. Installed sod in my front yard a bit late in the season (my fault, not theirs) and a couple of months later it still looks amazing and healthy! Hired them to mulch part of my property - arrived on time, completed the job in a timely manner and even (more importantly) - cleaned up when they finished. Entire crew is great! Will hire them again!
Our customers trust us to take professional care of their landscapes. See why so many new customers decide to stay with Green Side Up year after year.
We Are Leaders in the Landscaping Industry
You can rest assured that your landscape will be professionally cared for. Our owners have degrees in Turf Management and Horticulture. All of our team members receive online and field training. This ongoing education makes us a great company to work for and a great landscaping partner for homeowners.
Our professional process allows us to successfully perform many landscaping tasks on your property. Our services include:
Landscape Installation

We are knowledgeable about all aspects of sod and plant installation, and these tasks are completed with great skill and care.

Outdoor Living Spaces

We can design and build custom outdoor living features in your yard, including patios and outdoor kitchens.

Landscape Maintenance Plans

We will create a custom maintenance plan to cover all your landscaping needs for an entire year. Our services for maintenance plans can include these tasks:

Weekly Lawn Mowing
Seasonal Yard Cleanups
Tree/Shrub Trimming and Pruning
Garden Bed Care, including Weeding Services and Pre-emergent
Mulching
Turf Fertilization
Leaf Removal
Aeration and Overseeding
Off-Season Visits
Green Side Up is a licensed and insured Class A full-service landscaping company. We are committed to making your landscape as healthy and attractive as possible, no matter which services you choose.
Beautiful Proof that Our Process Really Works
We can talk a lot about our great services and effective process, but the proof is in the results. Check out our Portfolio page to view examples of our Landscape Design, Installation, and Maintenance services in action. We know you're going to be impressed by everything we can do for you!
We Service Your Home Landscape in Richmond, Williamsburg, and Surrounding Areas
Central Virginia has so much natural beauty, and we love working outdoors in this area. Green Side Up is a local company, which means we all live and work in this area, too. We understand the unique challenges of our climate and soil conditions. Our current and past landscaping projects include some very fine homes of all different sizes in Richmond, Williamsburg, Midlothian, Glen Allen, Henrico, and James City County. Check out our Main Service Area page for more details on specific neighborhoods we work in.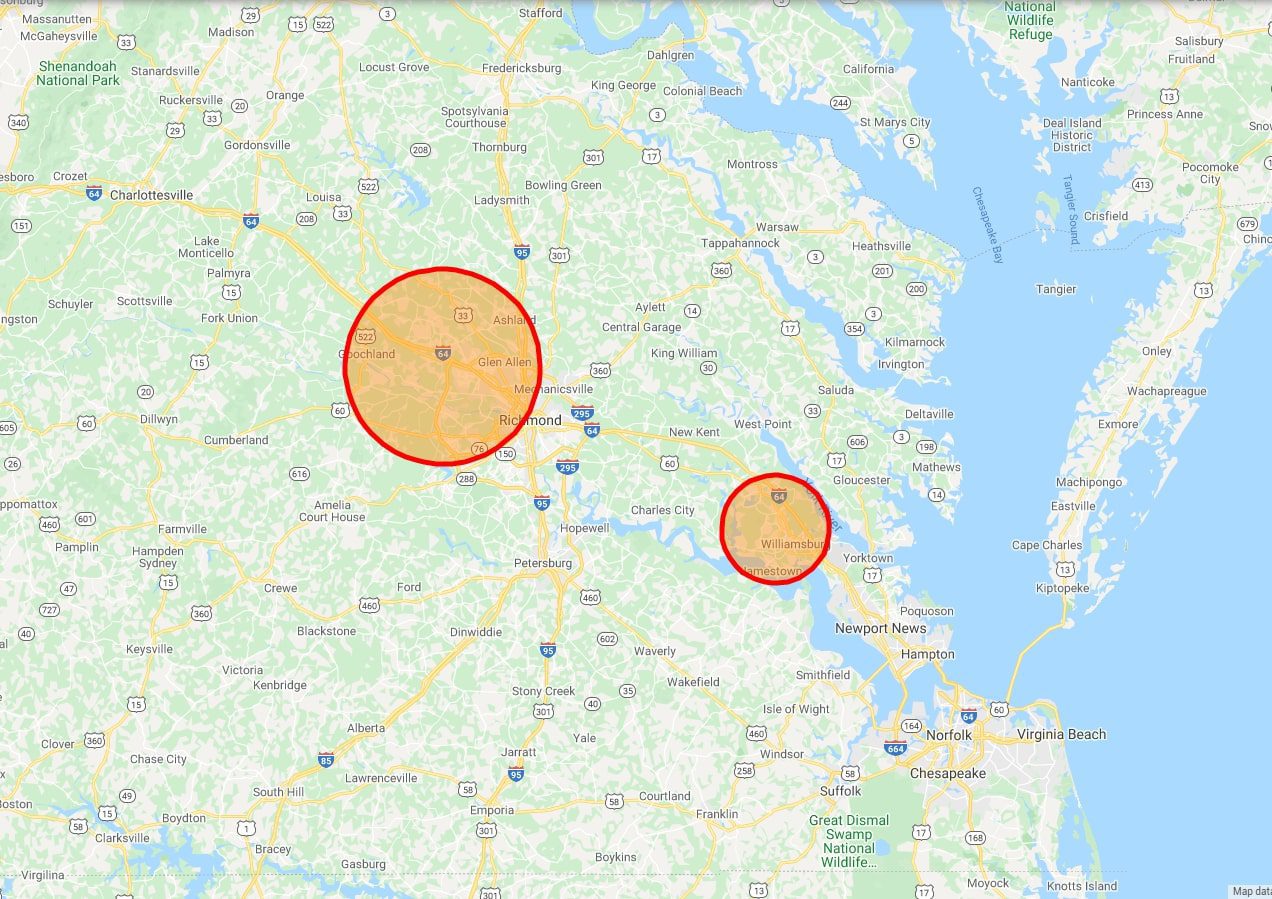 Our Process Makes Green Side Up a Great Place to Work
We are a professional landscaping company, and we treat our workers like professionals. You can't join a better team! If you enjoy process-driven work and love to be outdoors, please check out our current job openings on our Careers page.
Apply Now
It All Begins with an On-Site Meeting
Explore your landscaping options by scheduling your on-site meeting with one of our professional landscapers. We know you're going to love how we focus on your specific needs. Communication is always a high priority with us, so please contact us with any questions or concerns. Put your landscape in the hands of the most professional landscaping company in the Richmond and Williamsburg area.